I got that code you needed
S02.E01
Hey Internet,
If I'm going to be honest, I always thought it was going to be the antibiotic resistant bacteria that got us.
It's 4-20-2020 here on Earth today not to be confused with Earth day which is 2 days from now on 4-22-2020.
---
Minidiscs are cool. I remember getting my first minidisc player/recorder sometime in the late '90s. I remember that my friend Bryan brought cool Japanese minidiscs home from trip. I had a copy of Billy Idol's Cyberpunk album I ripped to a minidisc using an optical cable. Whoa, so cool.
Sitting in a small cardboard cube on a shelf in my bedroom, along with a few old wallets and my dead grandpa's WWII dog tags are 2 minidiscs Bryan and I recorded on a trip to in 1999 to San Francisco to attend a web design convention. Many of my web nerd friends were in attendance that year and are named in sharpie marker on the disc's label. I was 21 in 1999. I haven't listened to them since.
It would be so cool to store data on a minidisc. I mean, they barely hold a CD's worth of music, so I don't know how much you could put on one but. How cool would that be? Like Neo in the Matrix. I got that code you needed. It's on this shiny disk inside a cool plastic box with a sliding metal cover on it. I put some black tape on it to make it look cooler. It's in this Altoids tin.
The place where I occasionally get stickers made was having a sale on reflective stickers. I wanted to make some. I wanted to make some that were cool and cyberpunk.
I wanted to make minidiscs.
I spent hours in Figma building a vector image of a minidisc complete with the textured plastic bits and sliding metal cover and the unevenly shaped corners. I measured it so that it was exactly the proportions of a real minidisc. I imagined the minidisc I would most want to be receive from Keanu Reeves while standing in a badly lit hallway.
Here is one of the revisions. This isn't the sticker, this is like, behind the scenes extra material.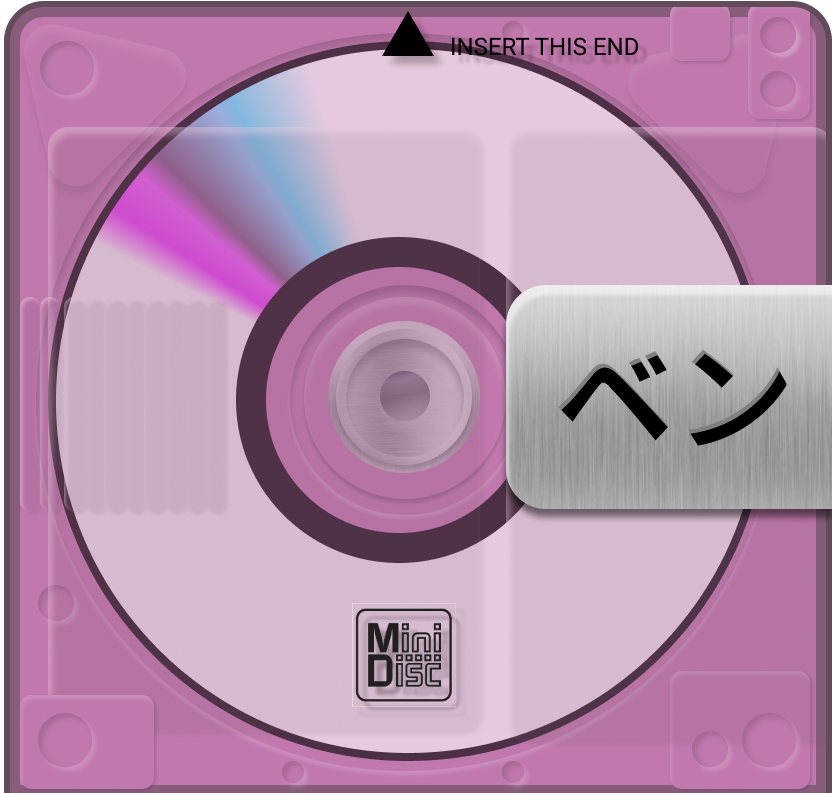 I had to argue with the sticker people for a while about how the corners should work. I tried to convey the importance that the sticker be exactly 7x6.75 cm with rounded corners on the top but square on the bottom. I was unsuccessful in this effort and as a result, the stickers are slightly larger than real minidiscs. Even so, they turned out pretty great: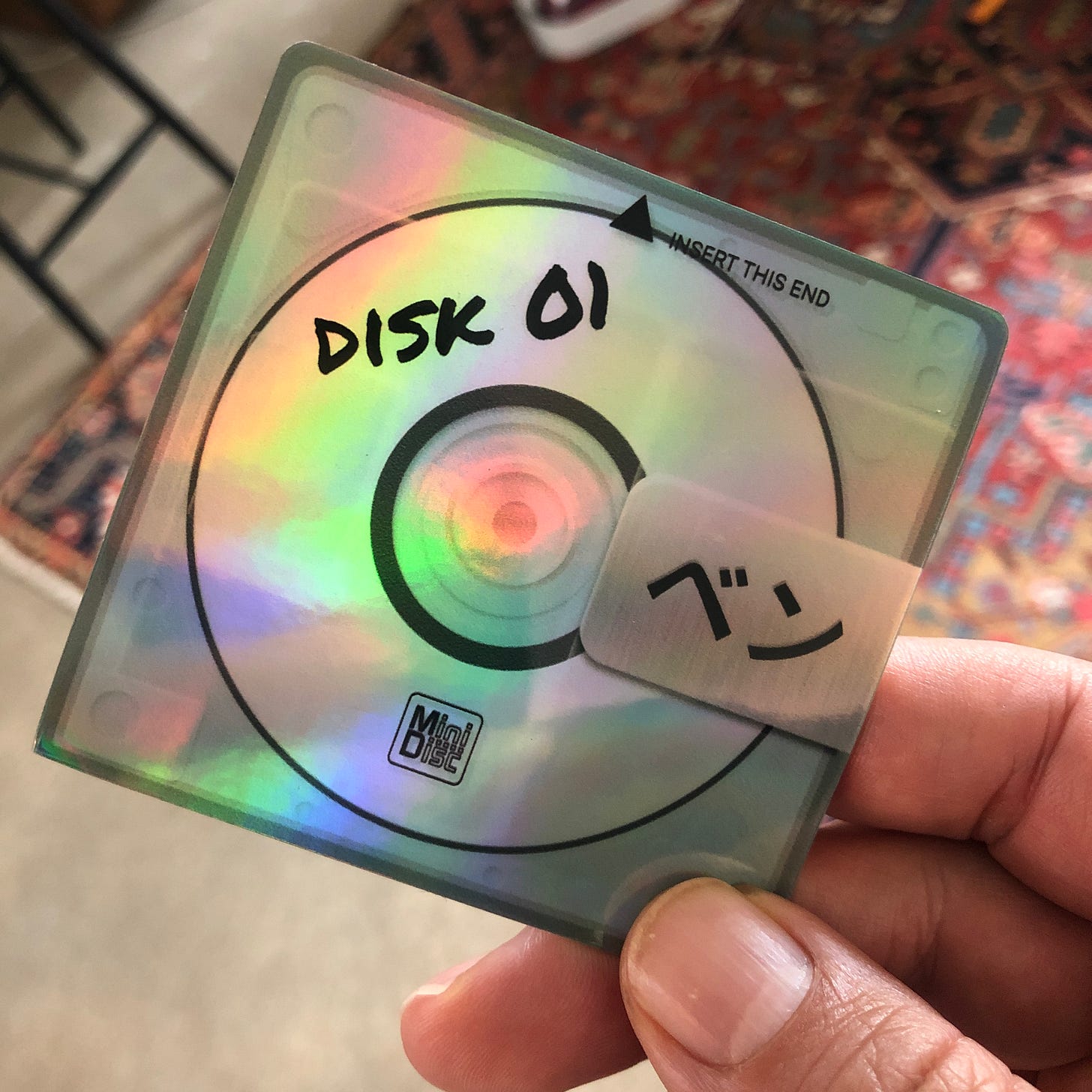 I've got a few dozen of these, and I would love to share them with people. I also have a backlog of other stickers I've made stretching back almost 10 years, and I'd love to share those too. So let me send you a pack of weird stickers I made!
Click on this and submit the form to send me your address. I will send you an assortment of stickers including: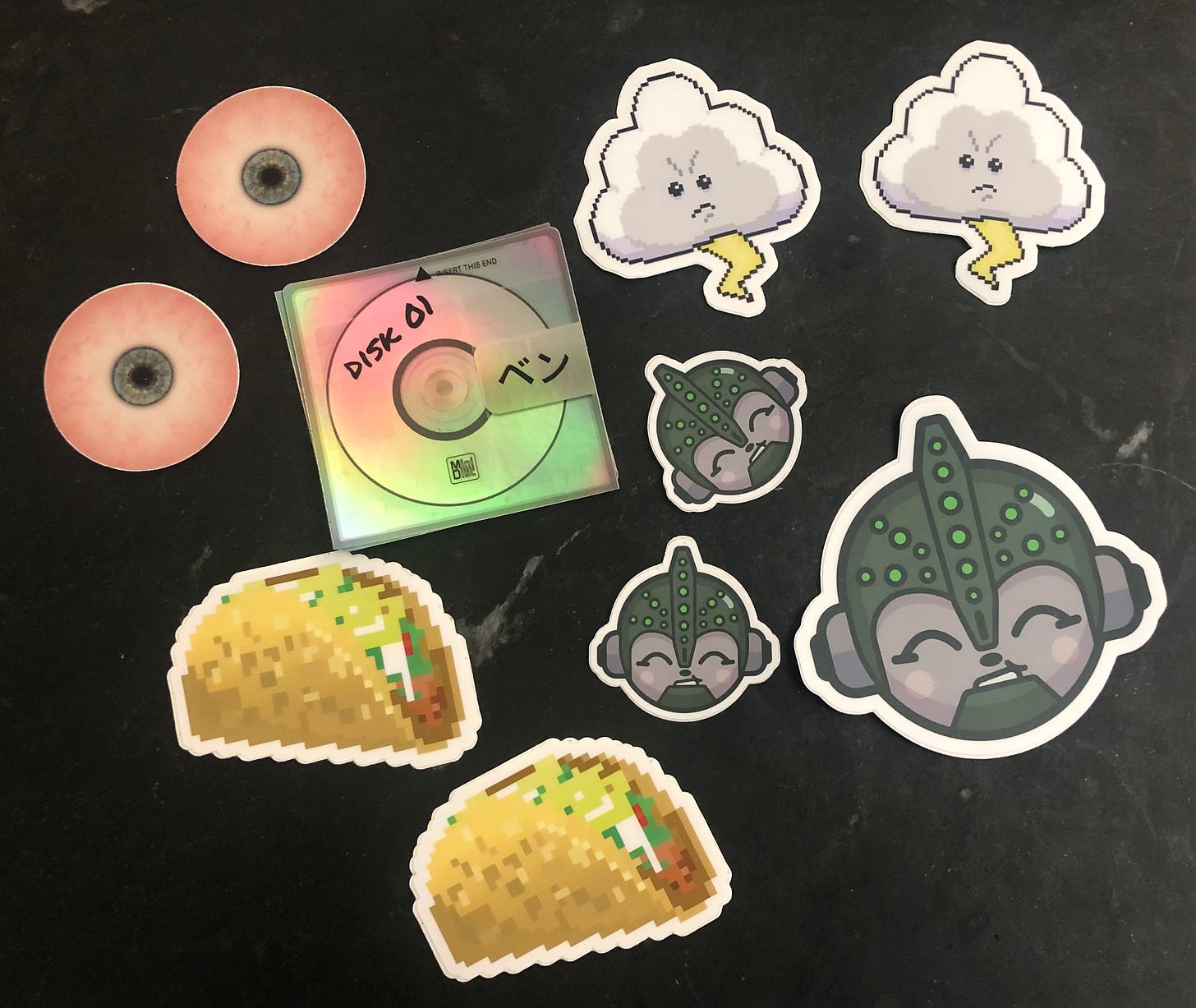 ---
Speaking of pixel art, I tried my hand at live streaming, and this was the result: 47 minutes of me making mouth noises and drawing a pixel art portrait of my rad friend Gums…. err, Sean. Sean is his real name.
You see Gums is his Animal Crossing character and in Animal Crossing is the only place I ever see Sean anymore. And I have been playing a lot of Animal Crossing.
This is not new for me, I was playing a lot of Animal Crossing on my phone to sooth the aching pain in my soul that was caused by waiting so long for a the Switch version of Animal Crossing to come out, and before that I was still playing Animal Crossing on the DS so. Yeah, I always knew that I was going to move into Animal Crossing full time one day and that day is today.
Most of my adult friends and both of my kids and two of my nieces also play Animal Crossing, so our lives are filled with visits and shopping and greed and jealous tantrums and destruction of daddy's precious toys. Now it all just happens on portable screens.
If you want to cross animals with me, send me an email and we will plan a play date.
So another thing I made is a new Twitter account that I used to share screenshots of my Animal Crossing life which trends sort of spoopy meets barter town.
If that sounds good to you, follow @bentendo_switch on Twitter. Here are some of my recent faves: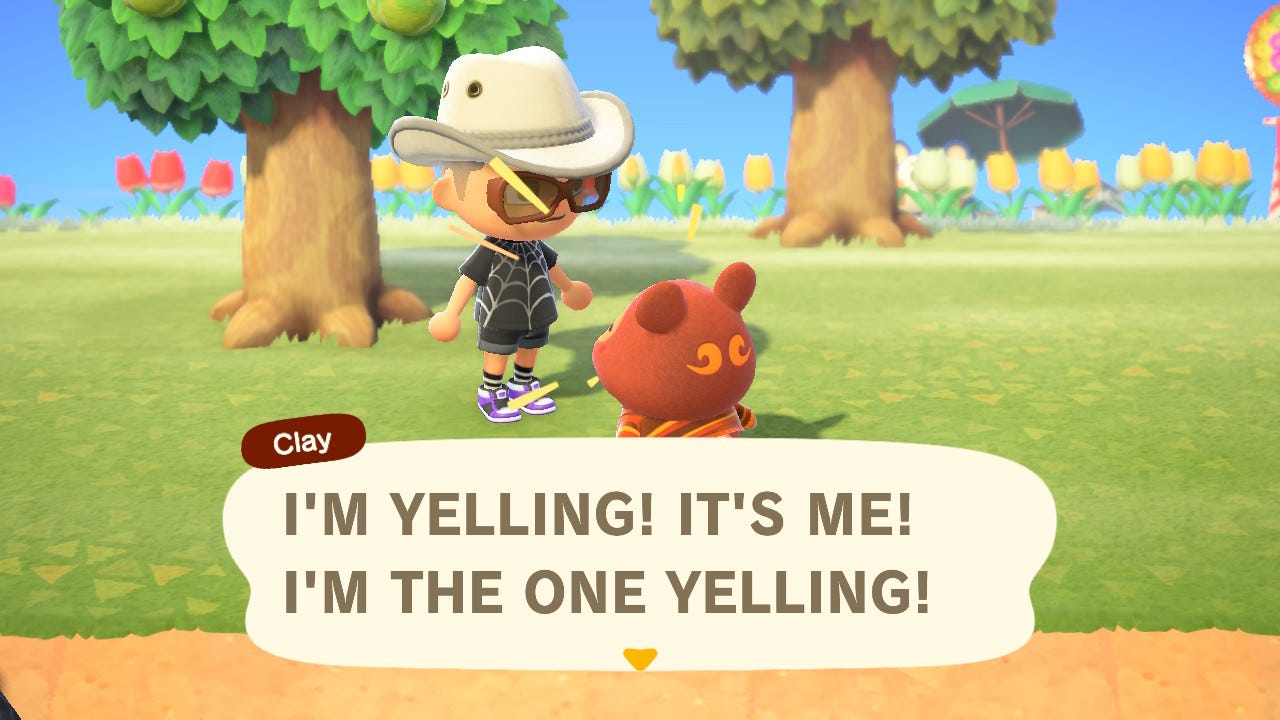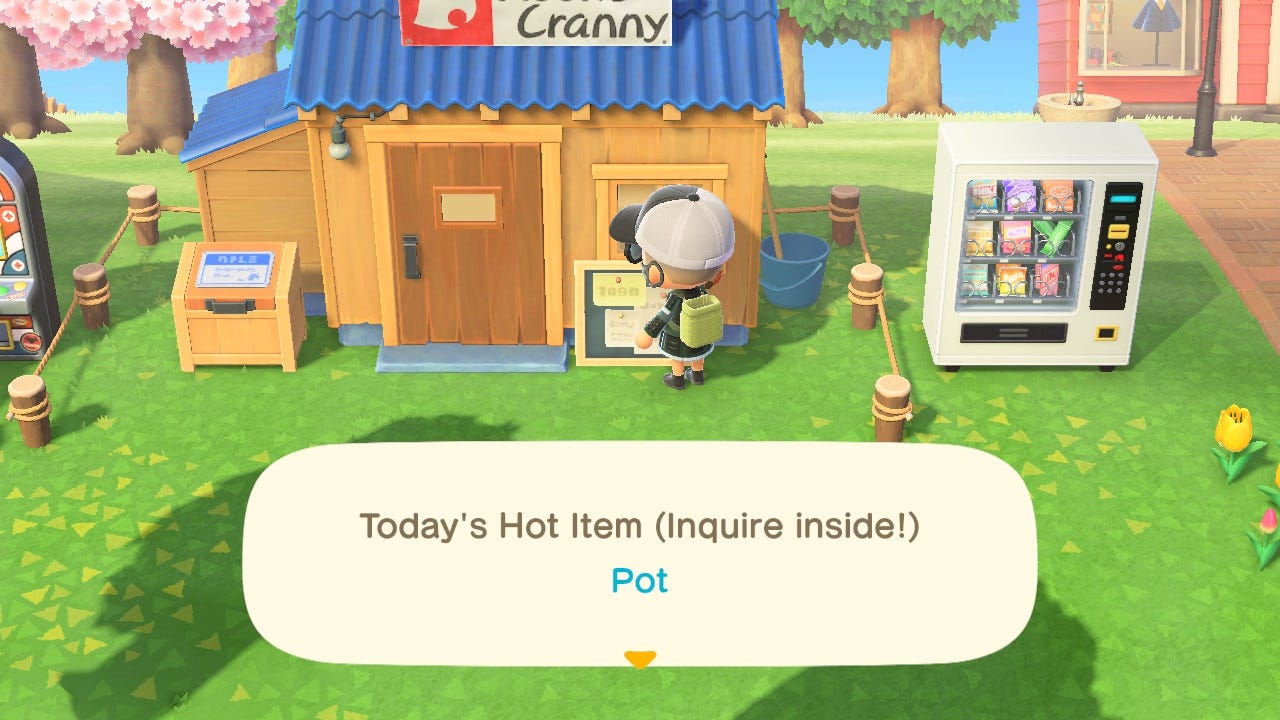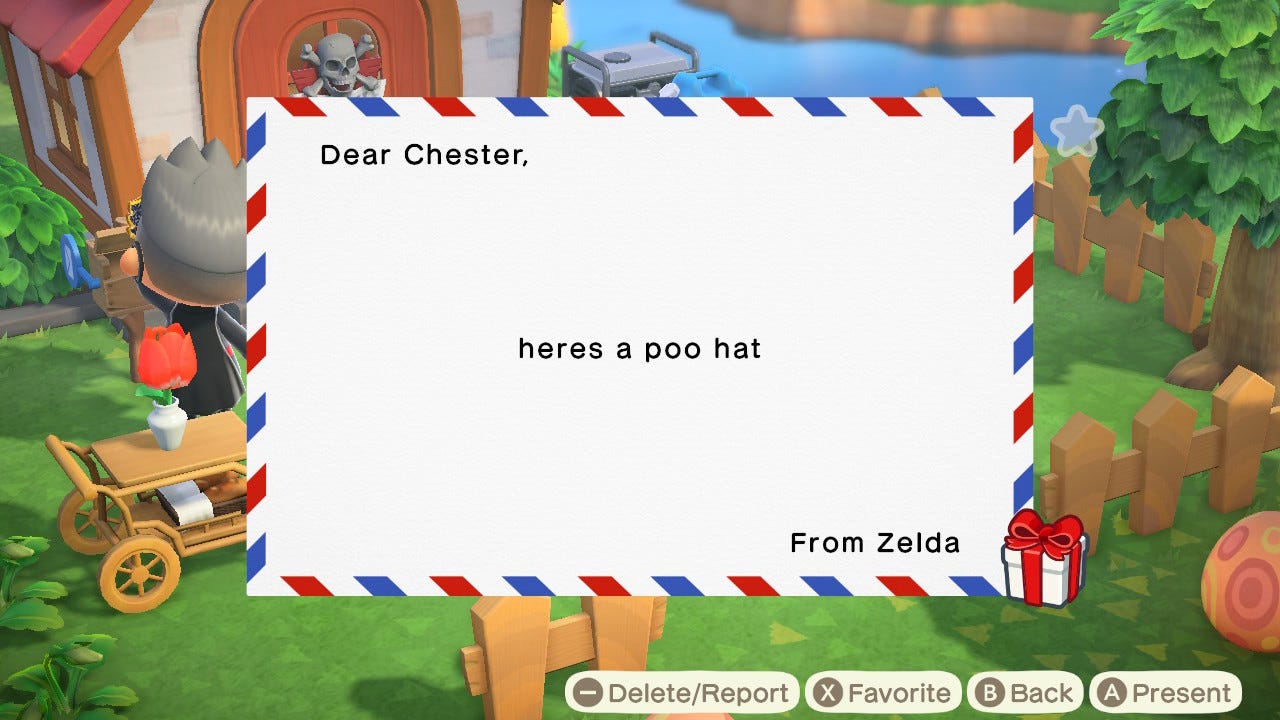 ---
There is only one other thing I want to tell you about right now and it is my friend Dakota's stream. Dakota is an extremely talented performer and he is doing various streaming performances on Twitch. He cooks! He reads the news! He plays Animal Crossing!!!
You can watch some of his previous broadcasts too, like this one where he made mouth watering chicken tinga tacos, but I would follow him on Twitch so you can get alerted when he goes live. Then you can chat with other viewers and Dakota, which makes it even more fun.
That's @decodersmith on Twitch.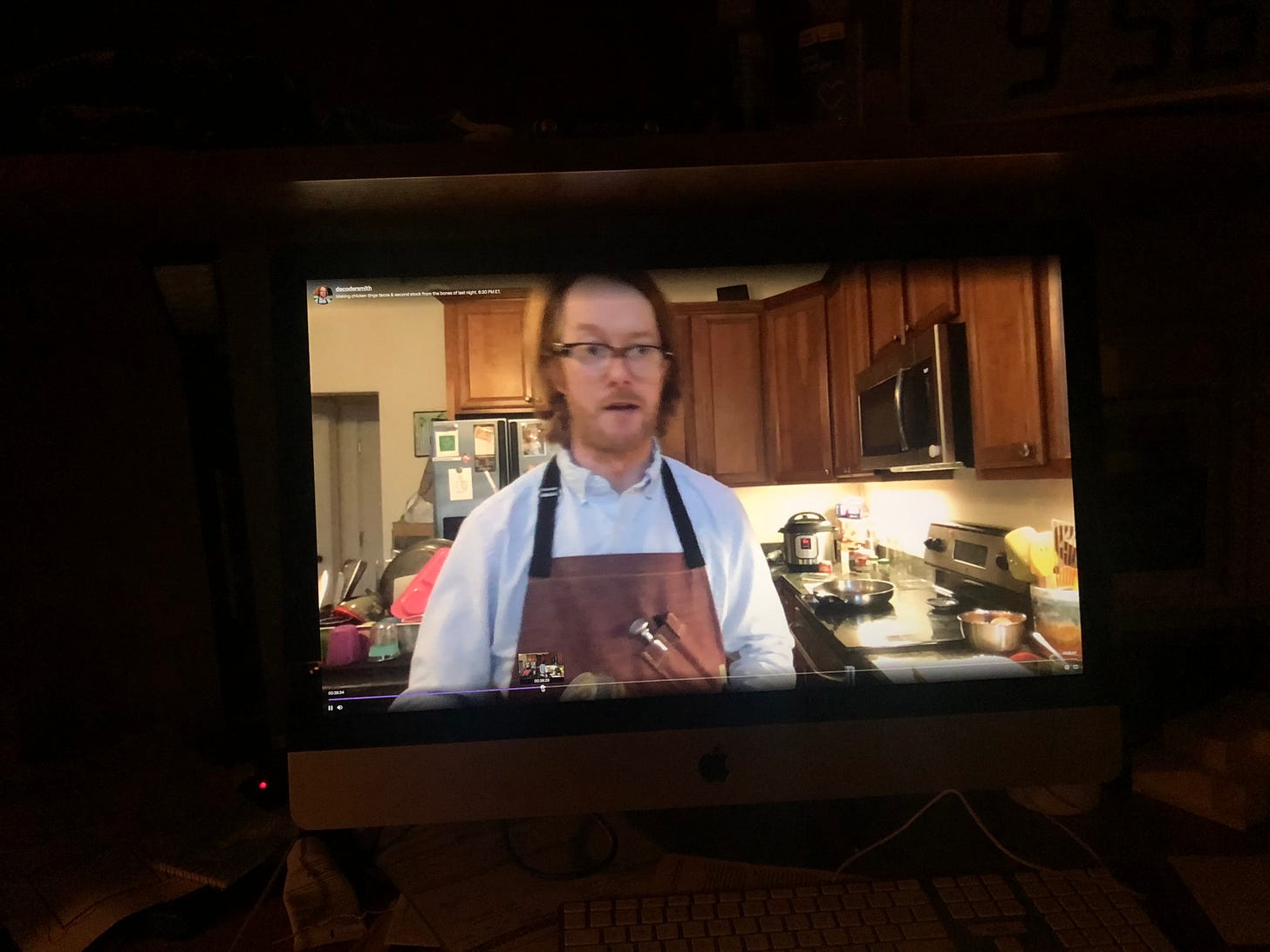 My kids call it "Mr. Dakota's cooking show!"
---
Thank you for reading. We are still here, safe in Austin, wishing you the best.