Shoes with zippers on them, muffins with eggs in them
S01-E01
Hello Internet,
It's me, Ben Brown! This is the first email in what I am just right now this second as I type this deciding to call an email mini-series about Agency, by William Gibson. There will be a few emails, and then, after a while, I will just stop sending them and make you wait for another season.
I am reading William Gibson's latest book, Agency. It is the sequel to his previous book, The Peripheral. Both books take place in the same fictional universe, a universe where - this is about as detailed as I am going to get here about the plot of either book - people in the future can send emails to people in the past and, as a result, create alternate timelines that do not affect their own but none-the-less continue to exist as pocket universes with their own separate fates. The main character of this one, her name is Verity.
Ah, email.
These are great books filled with titillating ideas, rife with detailed and cleverly worded descriptions of the past present and future. If you haven't already done so, click the links in the paragraph above to buy them from my local independent bookstore, BookPeople, where just the other day (on the eve of my 42nd birthday) I was lucky enough to see Mr. Gibson in person.
He was wearing very cool sneakers with both laces and zippers that you can't see in this picture I took from the back of the room where I stood proudly in my black MA-1 bomber jacket and mirror shades. I was very impressed that, when I first arrived, he seemed to be just hanging out by the front desk, saying hello to people. Or maybe, just peacocking his shoes.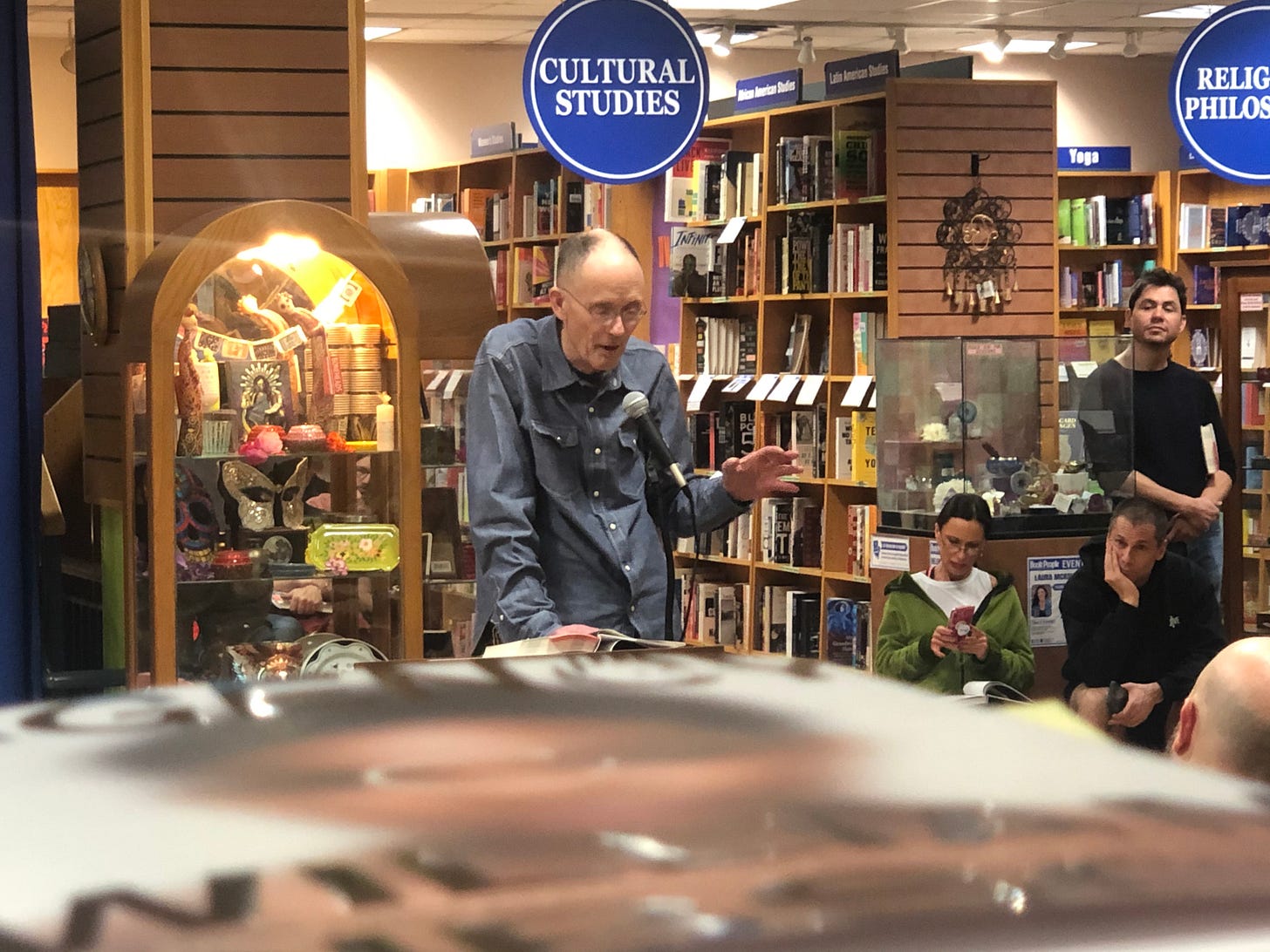 You can see a picture of his shoes on Twitter because he posted a picture of them, as 21st century custom dictates. You buy a pair of your own from StockX if you are the type to buy $600 shoes - they are black Nike Lunar Air Force 1s designed by Acronym which is reportedly one of Gibson's favorite designers.
This shoe has an official microsite and you can get up close with it on this website curiously named GOAT.
Which brings me to my point: This is an email about buying stuff.
---
What's got me going about Agency now here as I read it - I'm currently on page 188 - is that the world Gibson describes is the real world, the actual world, our world right now filled with real things and real places except in a few cases slightly renamed or fictionalized to protect the innocent. This kind of loving attention to detail, world building and tactile description of things is what he always does, but normally in worlds that exist in a much more imaginary and bleak future not on three blocks of San Francisco in the fall of 2017.
And when I say slightly, I mean this:
Deciding not to bother covering the headset, she went downstairs, out, and into Wolven + Loaves, two doors to the right. Exposed brick and smokily laquered steel, patisserie-fragrant. At the counter, she asked for a brew coffee and the McWolven, a mutant savory muffin, its core a soft-boiled egg, mysteriously absent its shell.
Sounds too good to be true, honestly. Ever since I lived in Wellington, New Zealand 19-years ago and experienced the glory that is a savory muffin shop on every corner, I've longed for easy access to breakfast breads containing onions, garlic, eggs, anything besides the pedestrian banana bread and bagels I have in my neighborhood.
It sounds made up but this should-be mythical creature is actually in real life available at a restaurant called Craftsman and Wolves located at 746 Valencia Street in the Mission and (barely) seen below in this photo of a dump truck from Google maps that is, yep, two doors to the left from what looks like an apartment building. On their menu, they describe it as "asiago, sausage, green onion, soft cooked egg" which… the act of copy pasting those words from their menu website made my stomach growl just now.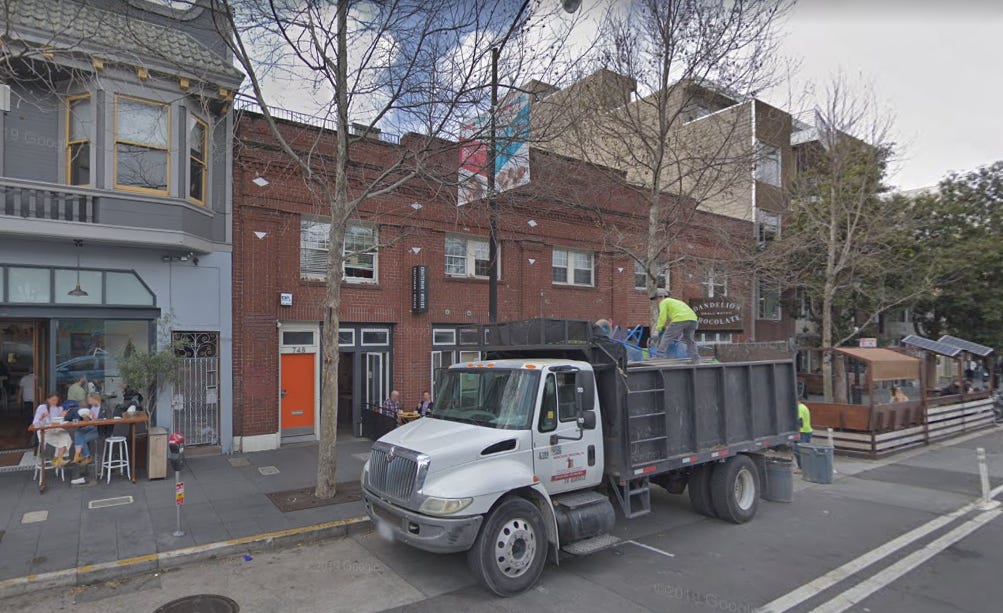 So, Verity is crashing on white leather couch in that building, upstairs from Mission Cheese. This is the front door: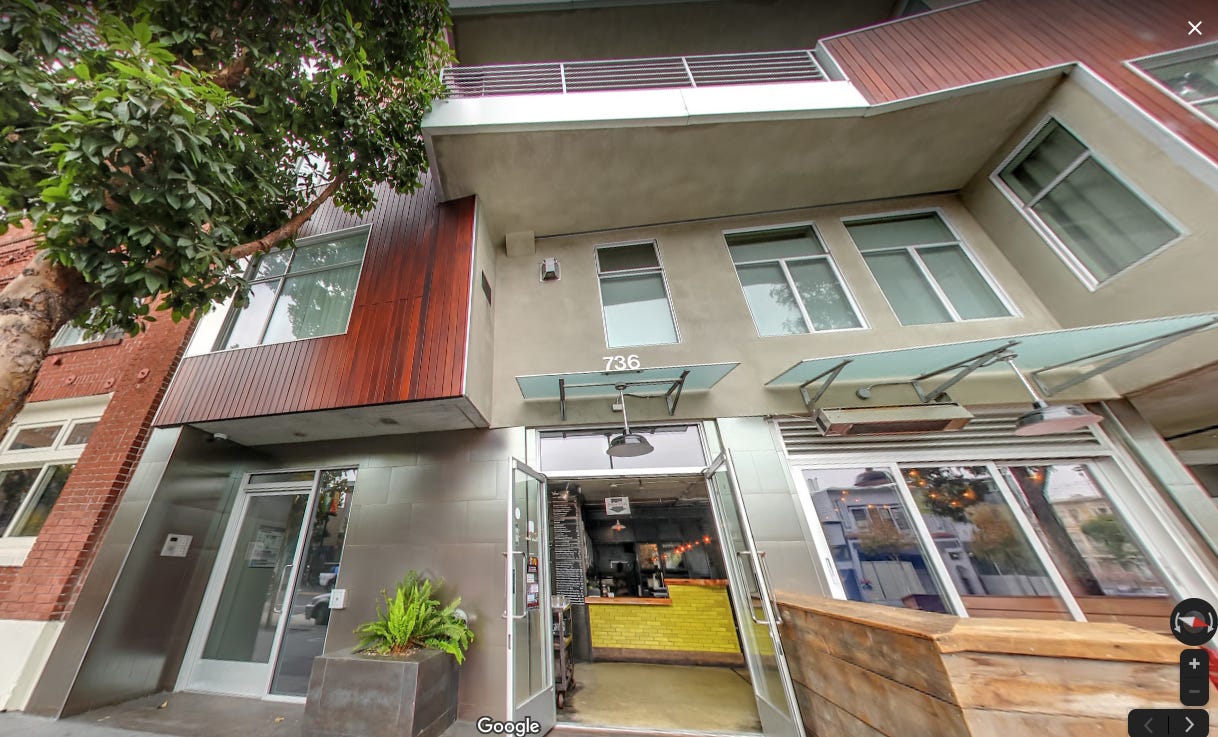 And he just leaves that easily discoverable fact staring at you like a secret supposed to be whispered but accidentally screamed out loud.
It makes me feel like maybe someone from the future sent an email to someone in our timeline and forked us off real good.
Here is my plan for this email mini-series:
As much as possible, I am not going to talk about the plot of this book. Instead, I am going to track down, document, reason about and wonder at as many pieces of the real actual world that Gibson has chosen to sneak into his work of fiction, as mundane as some of them might be, so that I can in some tiny way increase the resolution of that alternative timeline that, let's be honest, is cooler than ours. Or at least it is, through his eyes.
The Egg McWolven. In our reality, it's called "the rebel within."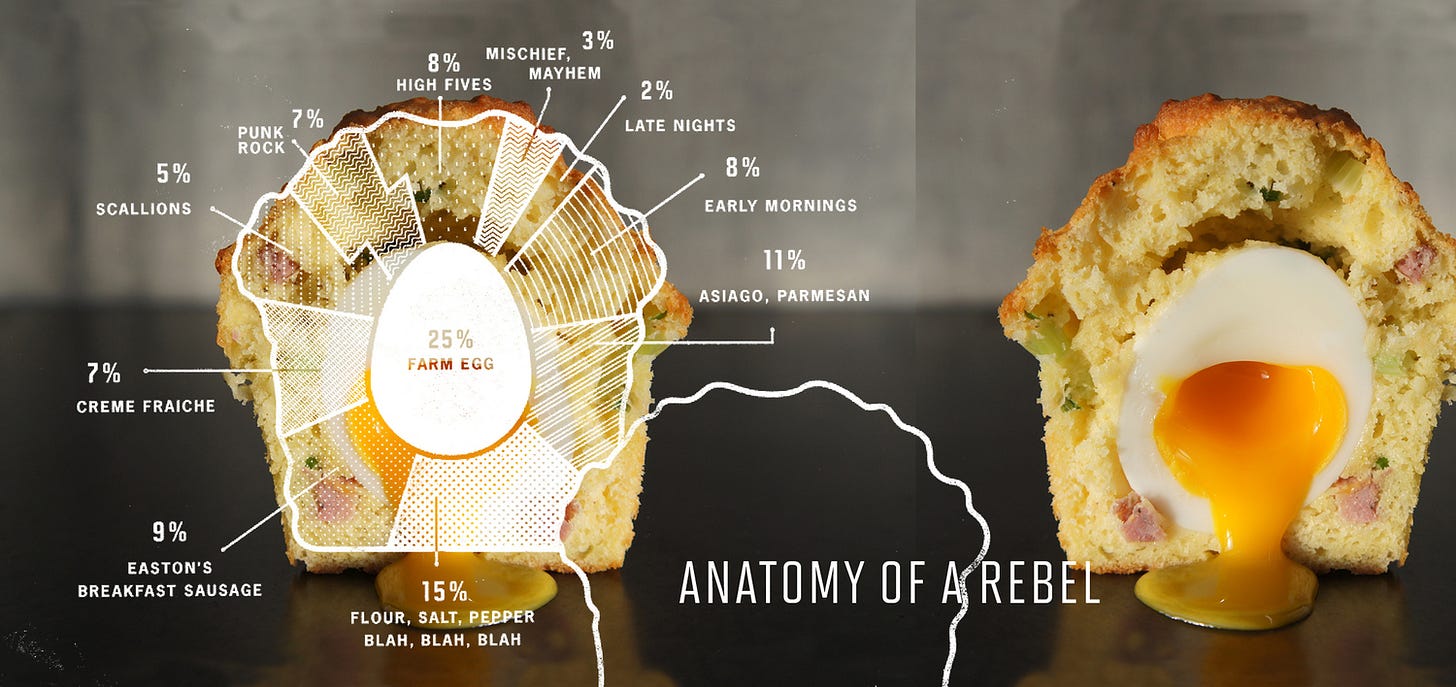 (image from craftsman-wolves.com)
That's it. That's the email.
Thanks for subscribing. More soon.