A Hefty Dos Manos
S01-E02
Hi Internet,
This is the second part of my email mini-series about real stuff and places mentioned in William Gibson's AGENCY. If you missed the first part about shoes and muffins, you can read it here.
As a reminder, I'm not really going to discuss the plot of the book (yet? maybe?). I highly recommend you rush out and read this book for yourself - clicking that link above will take you to BookPeople, where you can buy a signed copy of this book. Pro tip: That means the author literally touched it with his own hands and you might be able to clone a copy of him from DNA he left behind.
It's that kind of creepy comment that I luckily kept to myself when I had the nerve-wracking experience of having him sign my personal copy. I didn't even blurt out anything about chatbots. It took an enormous amount of restraint.
---
During the course of chapter 7, the novel's main character Verity is directed by her new, uhm, personal assistant, to collect a package from a mystery person on the street outside her condo:
He handed her what seemed to be a miniature camping pillow, covered in ripstop nylon, forest green. She looked up from it, but he was already turning, walking away.

She closed the door, locked and bolted it, then climbed back up, finding the pillow to be a stuff sack, big enough for a down-lined vest, but containing something solid. "What's this?" She'd reached the top of the stairs.

"Franklins," Eunice said.
The stuff sack Verity receives ends up containing 1000 hundred dollar bills, broken into smaller bundles of unknown size - I'm going to guess 10 bundles of 100, bound with rubber bands.
Forest green stuff sacks made of ripstop nylon are not hard to find. I mean, the description in the original text as written is basically in the form of a search query. But this is not an email about the world of infinite possibility. This is an email about concrete shit I can buy. I want to track down the forest green stuff sack made of ripstop nylon from William Gibson's mind's eye.
American dollar bills are 2.61 inches wide and 6.14 inches long. Each bill is .0043 inches thick and rubber bands are 1/32 inches wide, making each bundle .4925 inches thick. Stack 10 of those, and you've got a 2.61x6.14x5 inch brick of Franklins, which happens to be only slightly smaller than a real brick.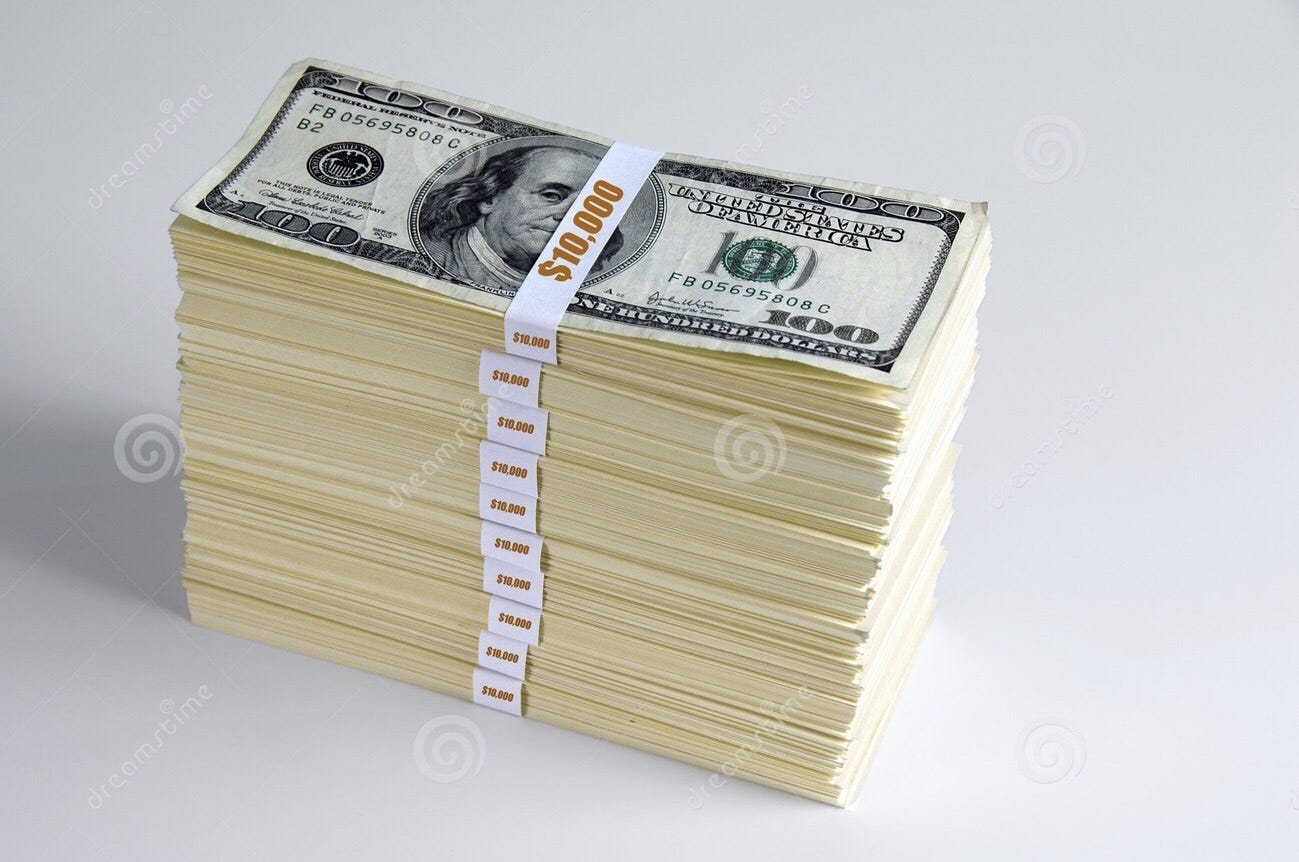 (Image above sourced, as amazing as it might seem, from a Quora post answering the question, "How tall is $100,000 in 100 dollar bills" which I swear I did not find until after I wrote the above paragraphs but which backs up my calculations.)
That is a super awkward way to handle money! Very unwieldy, especially in a sack. If it were me, I'd break that stack in half and put it side by side, ending up with a block of Franklins measuring roughly 5.x6x2.5, like a a hefty dos manos sandwich of cash.
The Sea to Summit Ultra-SIL Stuff Sack - $15 from Amazon - looks like a solid candidate. Made of ripstop nylon, the 2-liter model fits "snacks" (sandwich of cash) while the 4-liter model says it will fit "a shell jacket or lightly insulated jacket" (down-lined vest), so choose the one most closely aligned your preferred style of money stacking.
Bonus, it's made of CORDURA nylon, which is a cool word which sounds like it was invented for use in a cyberpunk book. CORDURA is a fabric made of nylon is stronger and more durable than normal nylon and is used to make things that need to be tough like body armor and military uniforms. The patent on this fabric is owned and licensed by a company called INVISTA that also makes fabrics with names like DACRON and DYTEK and FLEXISOLV and other futuristic words officially spelled out in all-caps.
In Spanish, "cordura" means sanity, or common sense, which should make you feel safe in your choice of this very sensible stuff sack, particularly if you too are planning on carrying around your entire life savings in it.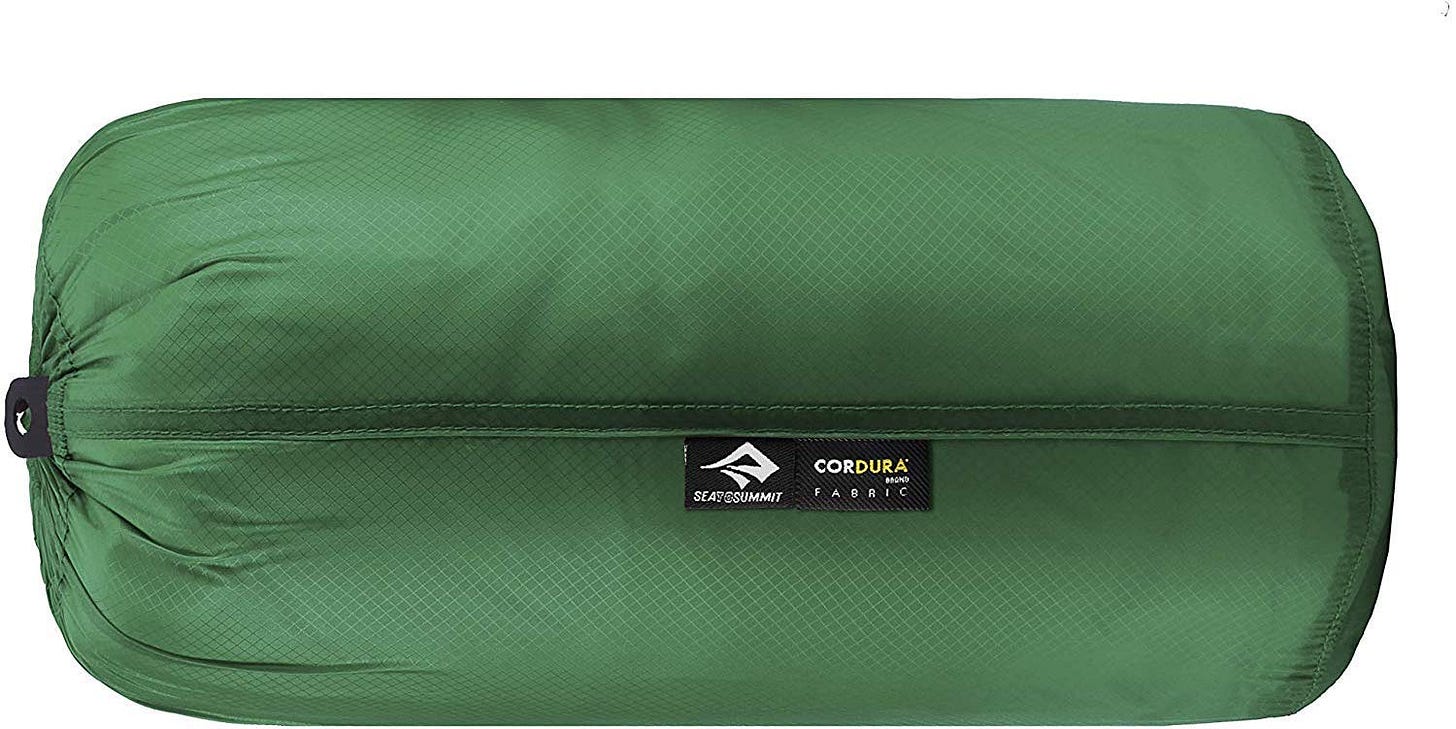 There should be a word for the feeling that happens to me a lot these days: the sadness I feel upon learning something that I immediately and desperately wish to un-learn but know that I never will, and the weakness that follows as pleasures previously experienced are drained of their joy.
Look, if you like things made of CORDURA or think corrrrdooooorrra is a cool sounding word - especially if you roll your Rs when you say it - and you want to continue thinking that, just skip this next paragraph.
Ok here it is, I hate to know this: CORDURA was originally created by the "fibers unit" of DuPont, and was then purchased in 2004 and is now owned by the FUCKING KOCH BROTHERS. That is deeply, deeply uncool.
Ugh, that makes me feel so… DACRON.
Thanks for subscribing. More soon.