The Sword Lifestyle
S02:E03
Hi Internet,
I am so pleased to see that everyone who requested one has received their sticker pack. If you missed out, don't worry - it was so much fun that I will almost certainly do it again once I have replenished my stamp supply.
This email contains a few small stories woven together into a bigger story that makes the small stories worth telling. Enjoy!
---
When I was a teenager, I went to the mall near my parent's house and bought a katana sword. I walked into the mall's really-did-exist sword store, pointed at a three and a half foot long razor sharp knife and said, sell me that one. Paid for it with money from my paper route.
I snuck it back into my parents' house and hid it in my closet. I was 16.
I can't tell you what motivated this purchase. Perhaps it was the fact that my best friend Tim had purchased a replica claymore - a huge, two handed sword like the one used in the movie Highlander. Perhaps it was something else. I was 16.
This katana sword was sharp. Really damn sharp. Sharp like a razor. Sharp like a real katana sword. Which it was.
Tim and I would sneak out of the house and take our swords out into the woods and swing them around like crazy idiot teenagers. We would chop into trees and swing them around above our heads and do things that, when I think about doing them now, I wince at the mere thought of anyone doing it, at all.
One night, we wandered into a large construction site on a secluded cul-de-sac. At the center of the site was a large mound of mouldering wood chips. I remember the wood chips were steaming in the night air as we charged up the side of the hill, swords in hand. The chips cascaded down the side of the hill in waves as we clambered up the side. Finally, the moon above us in the sky, we reached the top of the mound and, howling, thrust our swords into the air, probably imagining Conan the Barbarian or Luke Skywalker or the Highlander.
Shockingly, neither of us ever got hurt while we were out there in the woods, pretending to be barbarians.
Nobody got hurt until the fall of 1996.
---
I like knives. I figure you need a few good knives in your life. For opening packages and cutting ropes and… playing with at your desk while you're on video calls.
I already had a really nice pocket knife - the Kershaw Brawler. It is black and angular. The blade folds cleanly and securely into handle and swings back out easily with a flick of the wrist. Even though it is black and pointy and certainly capable of doing nasty damage to things, it has a nice belt clip on it that says, "look, I'm a pocket knife, I clip to your pants in a normal pocket knife type of way." I used it to break down Amazon boxes.
Not so for my newest knife.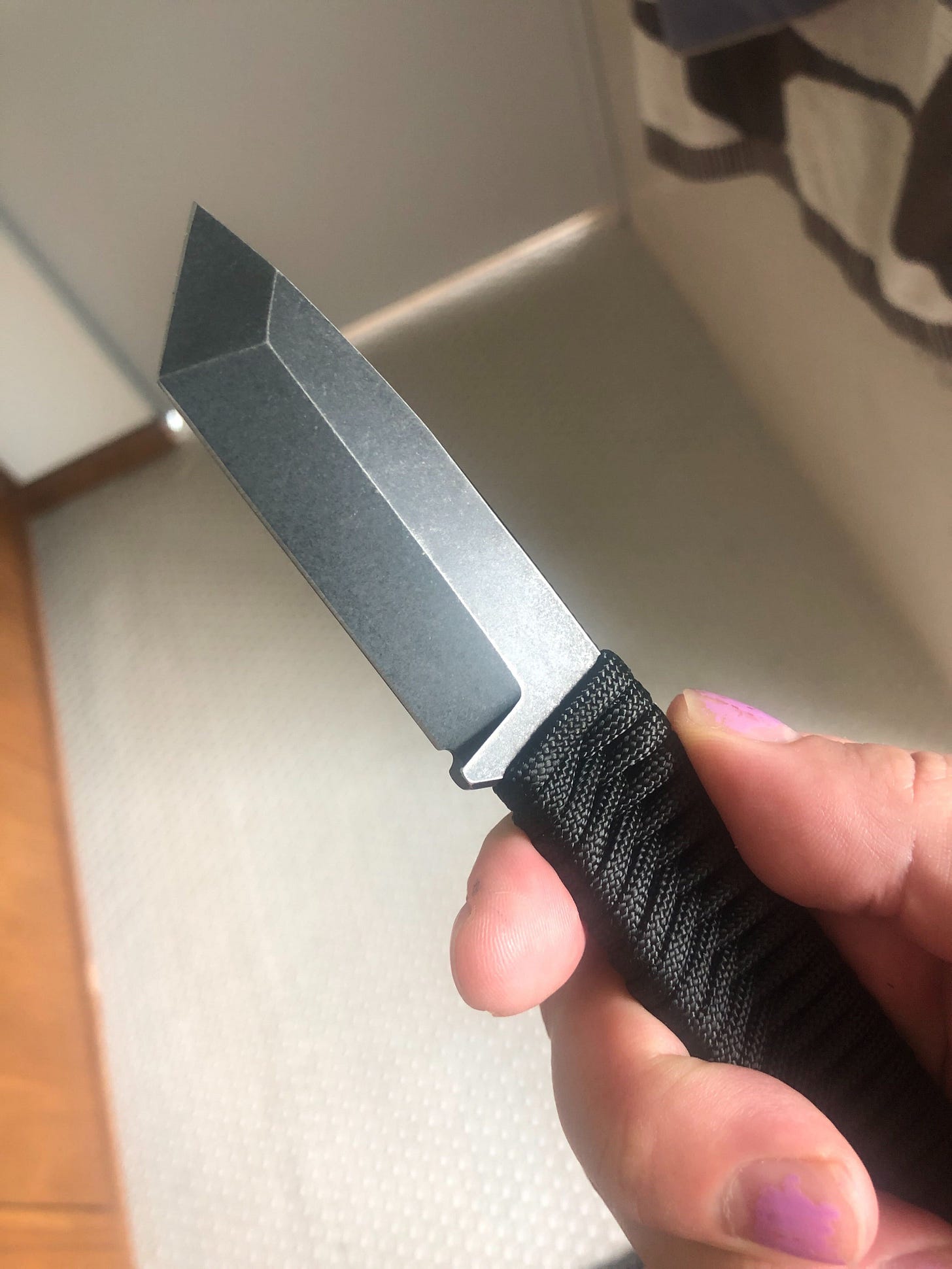 SWEET FANCY MOSES, look at this thing. This is the "Skeletal Tanto" by an Austin artist who goes by the name Playge. It is called skeletal because it does not actually have a handle and is instead just the outline of a knife made out of black D2 steel. Mine came with wrapped in paracord though, which makes it a bit easier to grip, but hides the skeleton. Look at the product page linked above to see it naked, though it may give you nightmares or cause you to buy something.
When this knife arrived in the mail I was so excited. I had been drooling over it online for a few weeks before finally making the purchase. I took it out of the package and unwrapped it and pulled it out of its sheath and marveled at the way the light hit the blade and felt its weight in my hand, and it felt… terrifying!
The first thing I thought was, this is way too much knife for me.
---
In the fall of 1996, I was heading to my freshman year of college. My departure from my parents house into the college dorms meant that my bedroom at home was now up for grabs. My youngest brother Alex was deemed most deserving of a bedroom update - fair considering he had till then lived in a windowless basement room - and I was told by my mother to clean up my room and prepare it for his imminent arrival.
I packed my brand new Windows 95 PC and my Spider-man comic books and my Roy Scheider from seaQuest DSV action figures. These - my most precious possessions - would all go with me to college. Then, as I sorted through the back of my closet to decide which black duster jacket would be most attractive to girls from New Jersey, I saw the katana blade.
I couldn't leave it hidden in the closet for my 10 year old brother to find! I had to put it somewhere safe. I grabbed it by the hilt and pulled it and the scabbard out of the closet.
Just as I lifted it to about waist height, the scabbard, which was not attached to the sword securely, began to slip off and reveal the blade. In a moment of mindless instinct, I reached out with my free hand to catch it while simultaneously jerking the blade backward with the other. The now open katana blade glistened thirstily in the light for one terrible second, then slid cleanly across my left hand between my thumb and index finger and then tumbled to the floor.
My first thought was, what am I going to tell mom?
I looked at my hand. To my surprise, there was no blood. I looked closer - a thin red line extended from middle of the back of my hand, along the loose skin between my thumb and index finger and about halfway to the middle of my palm. Perhaps I wouldn't have to tell my mom anything.
Phew, I thought. Just a scratch. There was no pain.
I looked again at my hand. I flexed my thumb a bit. This caused the skin on my hand to move a bit which pulled the scratch open and caused a geyser of blood to shoot out of the now gaping incision. I could see right into the inside of my thumb joint. Had the blade gone a centimeter further, it would have separated my thumb from my hand like a chicken thigh.
MOM, I screamed. I CUT MY HAND WITH A SWORD!!!!
---
My mom took my to the nearby hospital. The ER doctor asked how I had injured myself. I told him I had dropped a katana blade on my hand. He laughed at me and gave me stitches without pain killer that hurt way more than the original sword wound.
When I returned home, I wrapped the blade and its scabbard in duct tape so that it wouldn't again accidentally open and unexpectedly slay a member of my family. My mom hid it away in a high closet. Later, she required that it move with me into my first off campus apartment. After that, it followed me, still wrapped in tape, to Austin where it lives now hidden away in the back of a locked storage closet, far out of reach for anyone who might decide it would be fun to get it out and irresponsibly swing it around like a toy.
Yes, I mean me.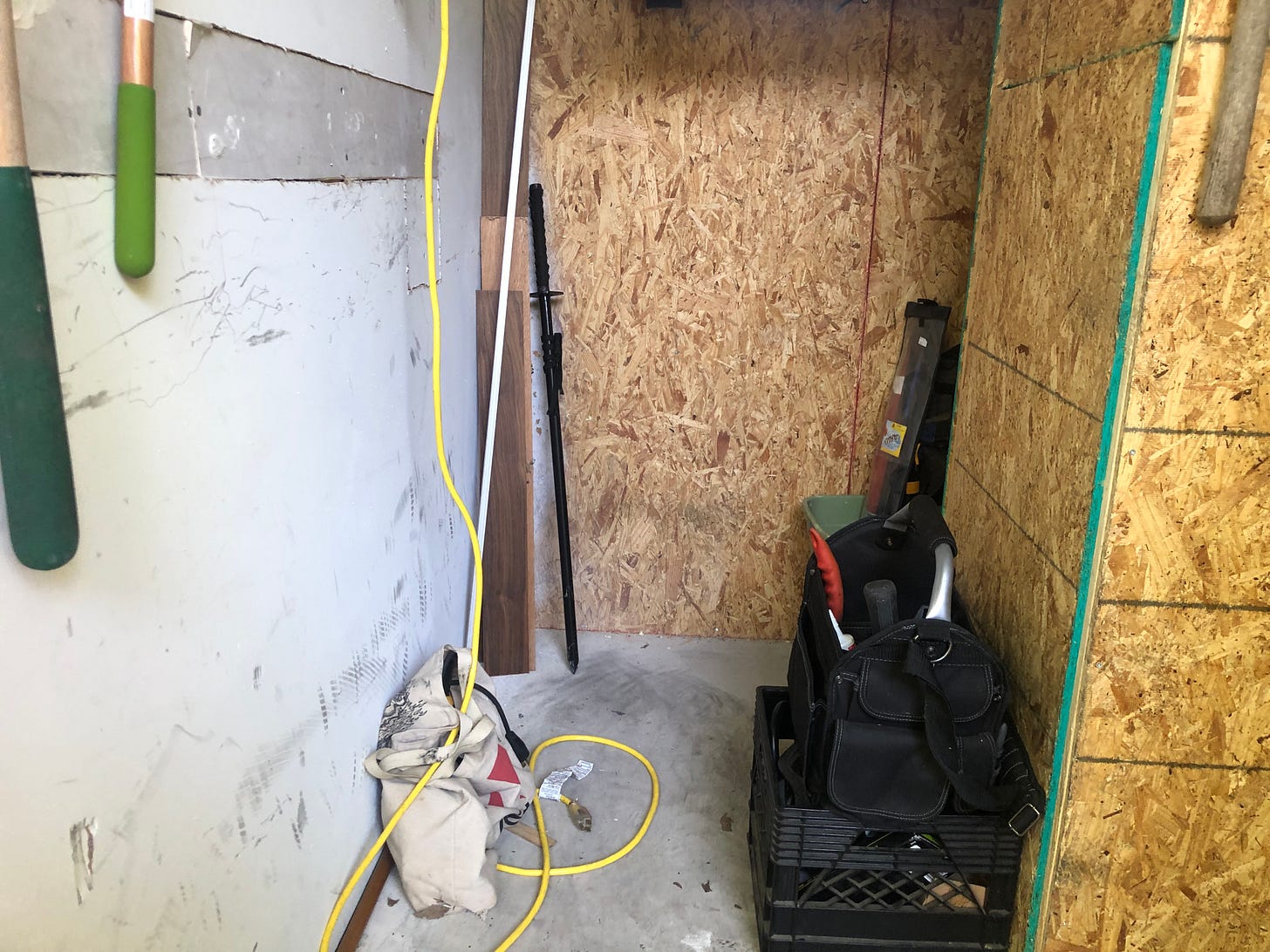 Does this mean I have given up on "the sword lifestyle?" Have I "hung it up the bladed weapons" and settled down? Ha!
HA!
Recklessly swinging a sword around is tremendously enjoyable and really helps me channel that less timid 1/8th of my ancestry that comes not from semitic intellectuals but from seafaring barbarians.
Instead, I purchased a polypropylene bokken that is the same weight and dimensions as my real katana but without a sharp edge of any kind!
This sword is fun for the whole family because it is around my family's unarmed bodies that I swing it. And nobody has been injured since I bought it, not even me.
You can see it below, in its customary resting place, tucked behind my pillow.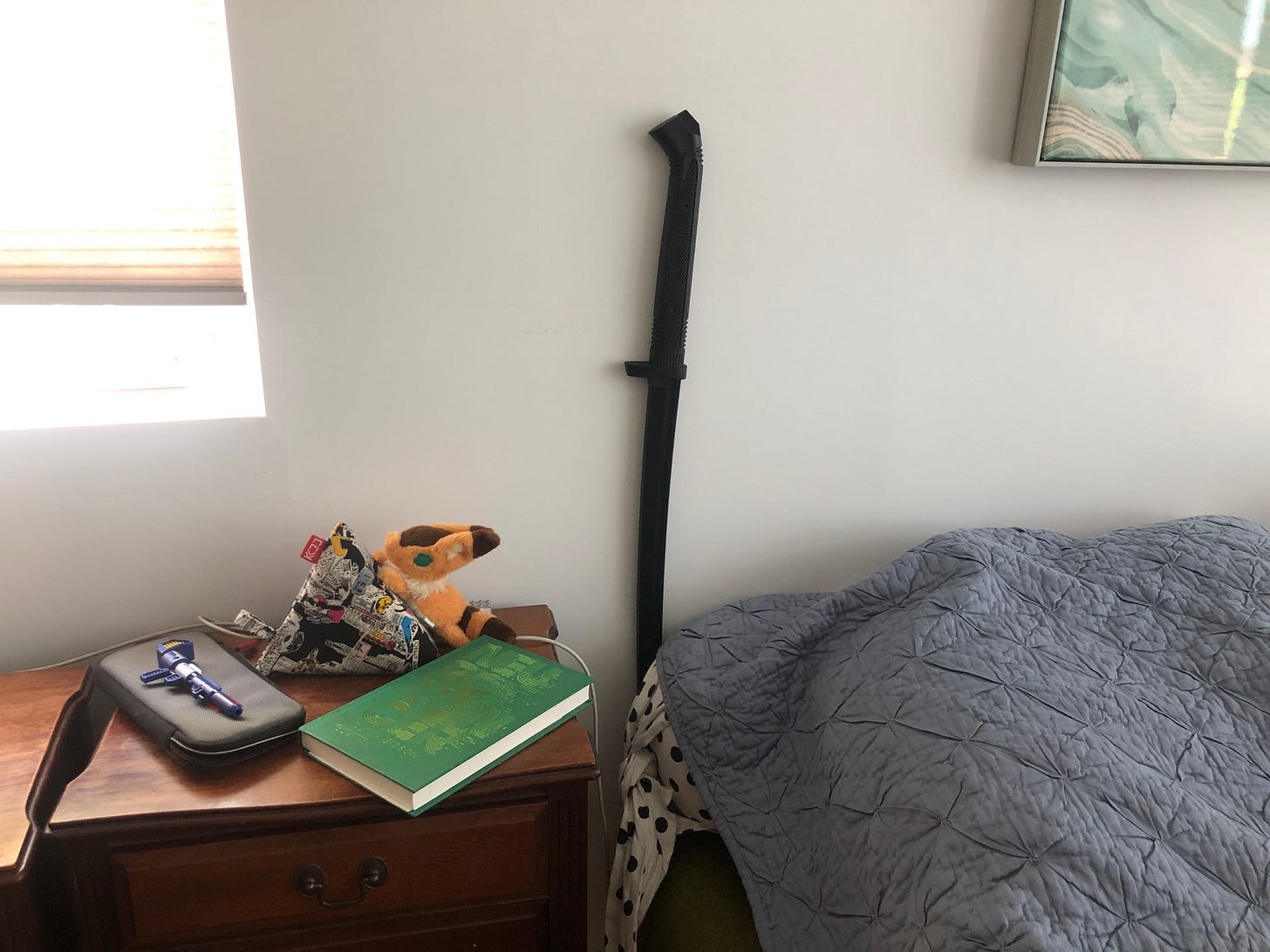 This is what responsible 21st century sword ownership looks like.
---
That first day with my new knife was special. I looked at that blade a lot. I took it out of the sheath, looked at the edge, put it back into the sheath. Took it out, admired the edge. Put it back in. What a knife.
So shiny.
So black.
So sharp.
It reminded me of my sword.
I took it out of the sheath. I snapped a picture of it with my phone. "Be careful," I thought. I looked at the picture on the phone and thought, wow, that is a sharp, sharp knife. I slid the knife back in the direction where the sheath had been a few seconds previously.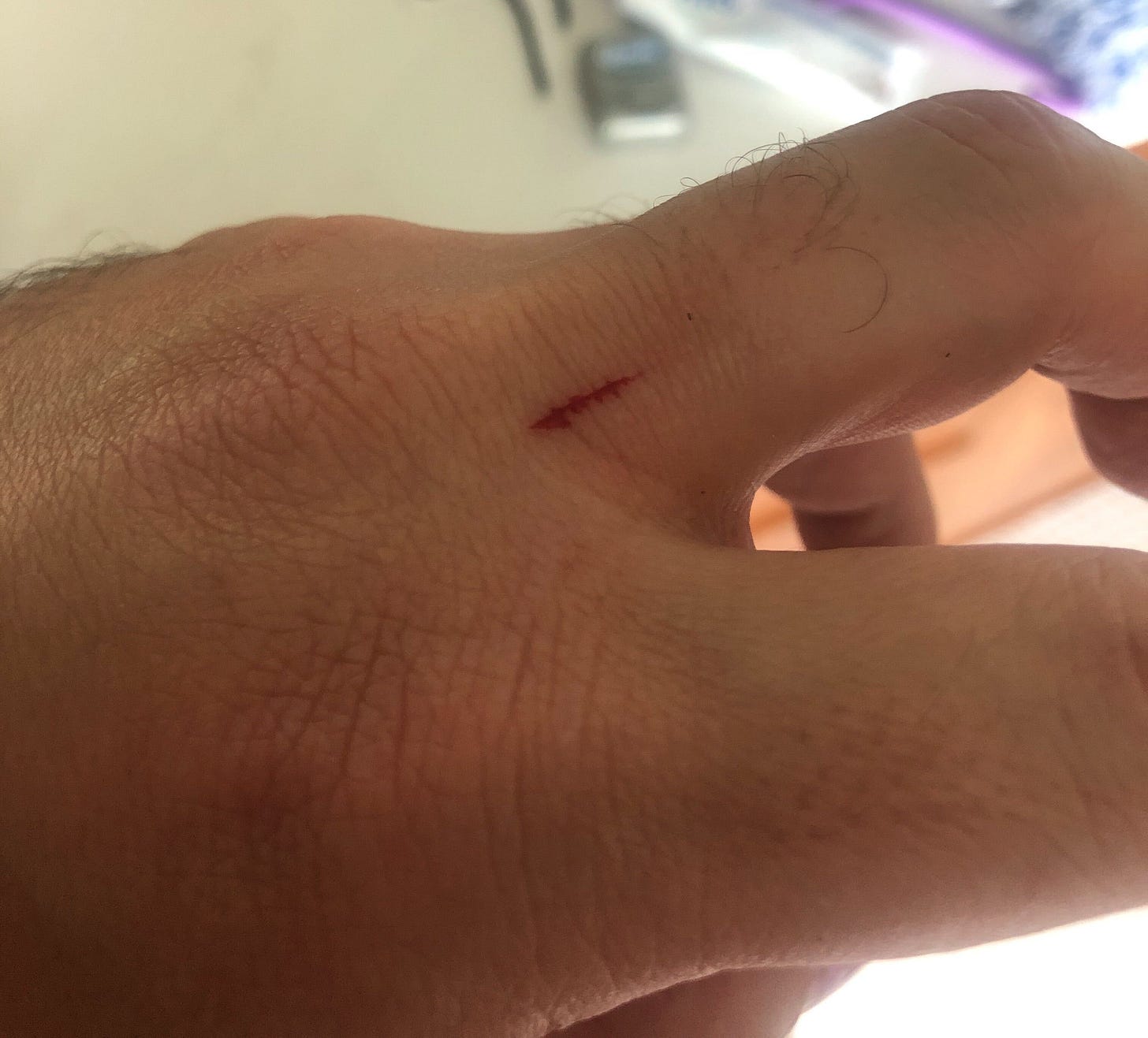 ---
Thank you for reading. I hope you are well.
If your thirst for swordplay is not yet sated, I have another treat for you. My daughter Zelda and I did a livestream yesterday during which we designed a sword and coffee themed sticker. It turned out pretty well and is now on its way to the sticker printer. You can watch my above average but still fairly modest illustration skills at the link below: